Adobe Flash Professional CS6
Adobe Flash Professional CS6
Picture is for illustrative purposes only. We deliver the product without packaging.
License type:
digital certificate
In stock Out of stock
Delivery:
On request Within 3 working days Within 1-2 working days Within 15 minutes

Free shipping
676,00 €
169,99 €
140,49 €

without VAT (21%)
86% of customers recommend shopping at software-deals.eu
License certificate

Confirmation of purchase (invoice)

Documentation in accordance with the EU laws (Seller's Declaration)

Installation file
Distribution type:
digital certificate
License type:
volume (OLP)
License valid for:
lifetime
Transferability:
transferable
Installation method:
installation from the manufacturer's installation file (we provide a link for downloading the file)
Architecture:
32/64 bit
OS Compatibility:
Windows, macOS
Usage:
without restrictions
Language:
English
Processor: Intel Pentium 4 or AMD Athlon 64 (for Windows OS); Multicore Intel processor (for Mac OS); 64-bit support required
Memory: 2 GB RAM
Hard Disk Space: 4 GB
Screen resolution: 1024 x 768
Operating System: Windows 7 (SP1), 8, 8.1, 10; Mac OS X v10.6.8, 10.7 or newer
We also recommend
Adobe Photoshop CS6
449,99 €
Adobe Illustrator CS6
Price on request
Adobe Flash Professional CS6
Adobe Flash Professional CS6 is a powerful and essential tool for animation, game development, and freehand vector drawing that provides a convenient and intuitive environment for developing, testing and deploying content across a wide range of platforms.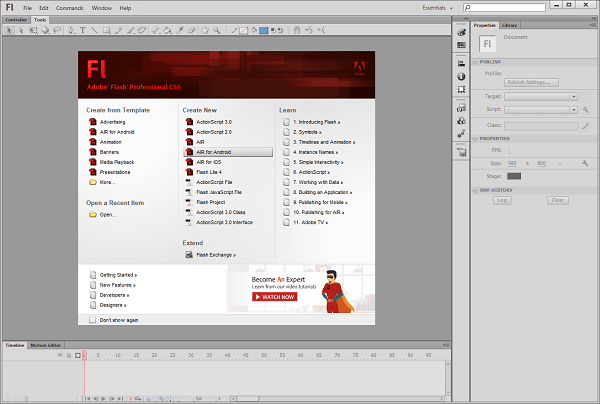 Click the image to view at full size

Ease of integration
The Professional version is focused on mobile platforms support, including Android and Apple iOS. It allows you to target Flash Player and Adobe AIR, and by delivering software with a prepackaged Adobe AIR captive runtime bundle, users no longer have to download additional software.
Improved workflow
Export of symbols and animation sequences gives you the opportunity to quickly generate sprite sheets that help improve the gaming experience and performance. By using convenient tools for common actions, animation, multitouch gestures, prewritten code snippets and more, you will significantly speed up project completion. For even more professional approach you can perform roundtrip edits of raster images with Photoshop CS6.
Enjoy the creative process from beginning to launch with this superb application!